Homemade Naan Bread
| | | |
| --- | --- | --- |
| Servings | : | 5-6 |
| Difficulty | : | Easy |
I canít tell you how easy this was to make, and now I know Iíll be cooking these more often. I opted for plain; they rose wonderfully in the middle. The first batch browned nicely, the second got a little singed while I was a little distracted, but everyone ate their portion. And this way, able to make individual naan breads, the kids donít eat 90% of the naan bread.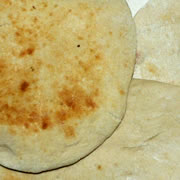 Ingredients
250g/9oz plain flour
2 tsp sugar
1/2 tsp salt
1/2 tsp baking powder
110-130ml/3.5-4.5fl oz milk
2 tbsp vegetable oil, plus extra for greasing

For the topping
Your choice of topping; garlic, poppy or sesame seeds, or chopped garlic and fresh chopped coriander
Method
Sift the flour, sugar, salt and baking powder into a bowl. In a jug, mix together the milk and oil.

Make a well in the centre of the flour mixture and pour in the liquid mixture. Slowly mix together the dough by working from the centre and incorporating the flour from the edges of the 'well', to make a smooth, soft dough. Knead well for 8-10 minutes, adding a little flour if the dough is too sticky. I needed extra flour.

Place the dough into an floured bowl, cover with a damp tea-towel and leave in a warm place for 10-15 minutes. This is a good time to now start on your curry dish.

The form the dough into about five or six even pieces, roll into balls.

Preheat the grill to medium and place a heavy baking tray, you probably want the shelf quite low as most of my naans rose nicely and some quick readjustment of the shelf height was needed.

Roll the dough balls out quite thinly, I opted for about 2-4mm thick and it worked excellently for me. Traditionally they would be rolled into a teardrop shape, but really this is just cosmetic, and I couldnít.

Sprinkle over your chosen topping (mine were plain) and press gently into the doughís surface.

Place the naans onto the hot baking sheet and grill for just 1-2 minutes, or until lightly browned.

Original recipe suggested brushing with melted butter.
View more Breads recipes
View more Egg based recipes