Light Bites
Light Bites
Asparagus, Horseradish and Parmesan Tart
A bit of a finicky recipe, but the flavours work and made it worth the extra effort. ..
Thai Aubergine Sates
A wonderful thai recipe to kickm start any thai vegetarian meal. ..
Barbecue Tempeh Sandwiches
Better than tofu, tempeh, a more natural and whole ingredients lends itself to this tasty dish. ..
Barbecued Asparagus, Rocket, Goats Cheese and Pine Nut Salad
Barbecued Asparagus, Rocket, Goats Cheese and Pine Nut Salad. Perfect for the BBQ! ..
Bread and Cheese Savoury
A tasty filler with limited ingredients, another one from my student days of minimal budgets. ..
Chinese Spring Rolls
Who doesn't go crazy for chinese spring rolls. Finger food or alongside a decent chinese meal like sweet and sour ..
Colourful Mediterannean Cous Cous
Super healthy couscous recipe for vegetarians.smrtovnice osmrtnice ..
Vegetarian Cheese Souffle
Calling all cheese lovers! This is a recipe for a delicious cheese pie, which is actually a recipe I learned from my mum. Whenever I make it, the smells from the kitchen remind me of her and her delicious cooking. It's a quite simple recipe and can b ..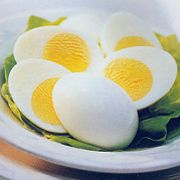 Perfect Hard Boiled Eggs
Perfect hard boiled eggs! No dark grey around the yolk, no rubbery textture. Perfect every time. How long do you boil an egg when you want it hard boiled .. 10 minutes, 5 minutes or not at all? ..
French Toast
The classic french toast spiced up just a little. ..
Homemade Noodles
Sometimes the speed in which you can make home made noodles and pastas, makes you wonder why we bother with packets of the dried stuff - especially when you compare taste and texture. ..
Luxury Scrambled Egg on Toast
Luxury Scrambled Egg on Toast ..
Pancakes
Pancakes for every occaision, server with lemon juice and a teaspoon of sugar. Or use to hold a variety of sweet or savoury fillings. ..
Paprika Potato Cakes
Works as both side dish and starter, or cold for lunch the next day. Salad and mayo works well with these potato cakes. ..
Parsnip and Parmesan Bruschetta
Super easy Italian snack favourite ..
Pizzette
This is an easy to make appetizer that is always a hit. It is also a good recipe to make with your kids. ..
Potato Souffle
We've had both success and failure with this dish, but enjoyed both. It can work well as a main course served with salad, or light vegetables. ..
Red Pepper Hummus
This is really, really delicious, and absolutely gorgeous! Even if you aren't wild about bean dips, you might want to give this one a try. I serve it with ww pita crisps and vegetable crudite. A few small bits of red bell pepper on top are gorgeous. ..
Saffron Popcorn
Movie time treat ..
Samosa by Sunita
A favorite tea time snack in India, samosa is also a very popular item on the menu in many a Indian restuarant worldwide. Served with mint chutney on the side, this snack is sure to warm all hearts. ..
South Indian Ullundhu Vadai
A very, very traditional recipe for Ullundhu Vadai from southern India. It's not always easy to find all the ingredients mind. ..
Spinach & Ricotta in Filo parcels
Brownie point-earning Vegetarian party food ..
Spinach and Cheese Squares
Super cheesy spinach and cheese squares for buffets and the like. ..
Swiss Eggs
A very light continental bite, its a quick lunch dish especially if you are already baking with a hot oven. A nice light meal when your friends are round during the day. ..
Vegetarian Scotch Eggs
Meat-free vegetarian Scotch eggs for those packed lunches, picnics, buffet parties and family salads. ..
Teriyaki Green Beans
One of my favorite recipes. ..
Tigers Eyes Sandwiches
Use only fresh free range eggs for this different egg recipe, aging battery eggs don't tend to hold up so well and you can see your masterpiece collapse just down to egg quality. ..
Tortilla Roll-Ups
Something for the buffet when you're sick of vol-au-vents. A definite change of pace, and you can be sure of an empty plate. ..
Vegetable Somasa Filling
This is also a fantastic filling for toasted sandwiches, or any sandwich for that matter. ..
Veggie Rounds
Theses are so yummy you won't be able to stop eating them! ..