Vegetarian Main Courses
A range of vegetarian main course dishes. Many also suitable as snacks and starters when the quantity is adjusted accordingly.
Asparagus and Quorn Cous-Cous
Asparagus and Quorn Cous-Cous ..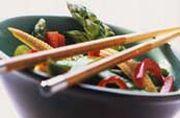 Asparagus and Vegetable Stir Fry
I think this recipe was from the British Asparagus Growers Association. We tried it and like it! ..
Asparagus Pissaladiere
A delicious tart, hot or cold, and especially good for a picnic! ..
Asparagus Risotto
Asparagus Risotto ..
Aubergine Casserole
Aubergine casserole, that would be Eggplant for the Americans. Works well. ..
Awesome Basil Risotto
For when you've got the time and inclination to cook, this recipe can be prepared in 45 minutes or less.smrtovnice o ..
Batter Potato
Anything in batter is highly unfashionable for home cooking because it immediately brings deep fried and unhealthy oil to mind. This potato batter recipe is more like toad in the hole, and a tasty batter cooked in the oven need not be that bad. ..
Bean and Vegetable Chili
A delicious, fast vegetarian chili thick enough to serve as a filling for burritos. ..
Beetroot Casserole
Beetroot is never an obvious choice for anything other than being served pickled with a salad, but it makes for some excellent main meals, it's sweet and holds a lot of nutritional benefits. The colour is so rich too. ..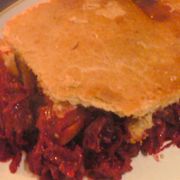 Beetroot Pie
An amazingly excellent recipe. We had a number of raw beetroot to use when we were getting organic vegetables delivered via the Riverford Organic Vegetable box scheme. Only ever having had pickled beetroot with salads and stews before, we went looki ..
Black Bean Chili
This recipe is amazing .. It is excellent over rice, plain with bread or over potatoes. ..
Black Bean Chili 2
Mega Mex black bean chili. ..
Black-eyed Beans with Curry Dressing
Nice use for the black-eye beans that have been in the cupboard for a while. I serve with a side salad and/or small new potatoes. ..
Broccoli & Pasta Sauce
A broccoli dish that sounds a little fancier than it is. Nice for when you want something a little different. ..
Broccoli and Almond Risotto
Broccoli and Almond Risotto ..
Broccoli Casserole
A super simple vegetarian broccoli casserole recipe ..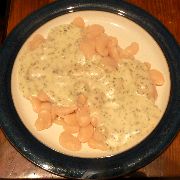 Butter Beans with Parsley Sauce
A straight forward veggie main course meal with one of my favourites; butter beans at the heart of the recipe. ..
Butternut Squash Casserole
When you have a butternut squash and you're looking at it, and wondering 'what the heck do I do with this?' ... ..
Vegetable Balti
A very authentic tasting Indian Balti recipe. It did require a few spices I don't normally have in the cupboard, but they are all spices I look forward to trying again. ..
Big Portion Chunky Meatless Chili
Cooking for larger numbers, this is the Meatless Chili recipe I used for those odd occaisons. Often too for a baked potato topping. ..
Braised Cauliflower with Chilli
Braised Cauliflower with Chilli ..
Cajun Quorn Burgers with Salsa
Another recipe for the ever diverse qourn, with a full cajun taste. ..
Cauliflower & Potato Curry
Large portion recipe for cauliflower and potato curry .. ideal for all veggies .. Serve over white or brown rice. ..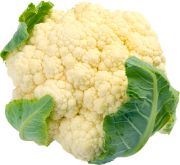 Cauliflower Au Gratin.
Cauliflower can be a love it, or hate it, vegetable. And 'Cauliflower cheese' has to be the most common recipe for cauliflower, this gratin recipe adds a more traditional twist. ..
Cauliflower Pie.
A cauliflower and potato pie recipe that goes well for Sunday dinner from time to time. We usually serve with a colourful vegetable like carrots and a jug of vegetarian gravy. ..
Cheesy Potato Casserole
A nice potato main course for the odd occaision. ..
Chestnut Pie
A rare treat for November and December when chestnuts are everywhere. ..
Chicken Style Quorn Low Fat Fajitas
A vegetarian take on a low-fat dieting recipe that did originally use chicken prices. Substiuting the quorn pieces for the chicken needs you to amend your cooking times. ..
Chinese style spinach tofu
The dish cooks really quickly, so it is a good idea to have all the ingredients prepared ready. ..
Chow Mein - Fried Noodles & Vegetables
Ever popular from the Chinese takeaway, you can try this wonderful vegetarian chow mein recipe at home. ..
| | | |
| --- | --- | --- |
| | Recipes 1 - 30 of 141 | Next |