Salads
Salads
Brown Rice, Pineapple, Peanut & Red Pepper Salad
Rice salad dish for when or if we have a summer :) ..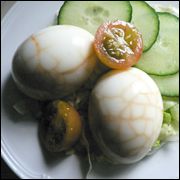 Crazy Paved Eggs
A very, very simple recipe that gives very cool and crazy looking boiled eggs for salads, buffets, picnics and anywhere else you'll want a boiled egg!smrtovnice
One of my favourite salads for the buffet table. ..
Easy Kid Friendly Tuna Salad
Ultra simple, tuna salad. ..
Thai Cucumber Salad
Cracking thai salad. ..
Tomato Salad
Very, very easy salad that can be thrown together quickly at any time and makes an ideal side dish. ..
Waldorf Salad
The walnut salad that has that unique falvour, and the unforgetable name. ..
Warm Wild Rice And Asparagus Salad
A wonderful warm salad recipe. ..
Zucchini and Mushroom Salad
A simple salad that's a little more adventurous than chopped lettuce and tomato. ..