Breads
Breads
Baked Cheddar Toast
Certainly not a vegan recipe, but a thoroughly tasty one, good for lunches and light snacks. ..
Banana Bread
A banana bread recipe that can be adapted to use a variety of fruits or nuts.smrtovnice osmrtnice ..
Bread Fritters
This is another oldy but goody. Use your favourite jam - you could also try a nice marmalade. This is another very simple recipe from a cookbook that belonged to my great-grandmother; 'The New Cookbook, a volume of tried, tested and proven recipes' ..
Chapatis (Indian flatbread)
A perfect bread to accompany most Indian dishes. ..
Cheddar Crackers
These Cheesy Crackers will keep for several weeks and if you freeze them, will last indefinitely. ..
Cheese Bread
A little italian twist on cheese on toast. ..
Cinnamon Rolls
All flavor, more-ish cinnamon rolls. ..
Vegetarian Cornbread
A vegetarian slant on a popular cornbread recipe. No tasty nibbles of bacon in this one though. ..
Felicity's perfect wholemeal bread
It has taken me a long time to find a really good Wholemeal Bread recipe or method. Given up more than once, but came across this recipe and wow it works, and pretty easy to boot. Recording it here so I can find it again. Made it twice, and both time ..
French Toast Cheddar Sandwiches
A variation on what my Gran would cook for us kids, and call Eggy Bread. The addition of mustard gives the recipent a nice tang and a more mature taste. ..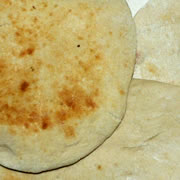 Homemade Naan Bread
I canít tell you how easy this was to make, and now I know Iíll be cooking these more often. I opted for plain; they rose wonderfully in the middle. The first batch browned nicely, the second got a little singed while I was a little distracted, but e ..
Irish Soda Bread
Super soft soda bread for veggies and anyone on an egg free diet. I make this to accompany many of my favourite veggie soup recipes. ..
Maple Oatmeal Raisin Bread
You can substitute maple syrup for molasses or sugar or honey in any bread, but here's one with a maple glaze, from Quebec. ..
Maple Pecan Scones
When I first took these out of the oven - and at first nibble - they're pretty good! ..
Naan Bread
Just the best Naan recipe I've found yet. You can add other fillings to vary it a little; garlic etc. ..
Nan (Afghan Bread)
A wonderful hand made loaf. ..
Parmesan and Cracked Pepper Grissini
A coffee time treat. ..
Quick Recipe Nan
Although I refer to this as a quick recipe it is by no means a short cut, but a recipe without yeast which, of course, eliminates the time required for proving. Even so, this recipe produces wonderfully light, fluffy nan breads which are best eaten i ..
Rich Tomato Bread
I love the different types of bread, and there's little better than homemade bread. This tomato bread recipe is one of my faves. ..
Rustic White Bread
Home made bread .. once tasted .. ..
Savory French Toast
A more savoury take on the classic recipe, when you don't want it the usual sweet way. ..
Scotch Pancakes
My mums recipe for scotch pancakes ..
Stuffed Rolls
Excellent for outdoor evening parties, these go down well with guests both young and old. ..
Sun-dried Tomato & Rosemary Bread
Excellent when served warm, still scrumptious when cold and fresh. Good with soups and other dishes, or as a light lunch on its own. ..
Sunflower Wheat Loaf
A lot of effort, but well worth it for a lovelly home made loaf. ..
Zucchini Bread
Extra simple and full flavour Zucchini Bread recipe. ..