Lentil Lasagne
| | | |
| --- | --- | --- |
| Servings | : | 4-5 |
| Preparation Time | : | 60 mins |
| Difficulty | : | Easy |
A very good, and relatively simple vegetarian lasagna recipe using lentils. This is one recipe the kids will eat without a single moan.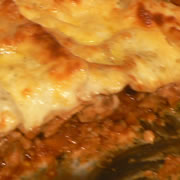 Ingredients
8oz Red Lentils
3.75 cups of Boiling Water
1 Large can of chopped tomatoes
2 tbsp tomato puree
2 tbsp soy sauce
1 tsp thyme
2 tsp marjoram
salt and pepper
2 tbsp vegetable oil
1 onion chopped
1 garlic clove, crushed
4oz carrots, chopped
4oz celery, chopped
4oz frozen peas
2 cups or more of white sauce / béchamel
1 tsp nutmeg, grated
4oz grated cheese
@10 sheets of no-need-to-cook lasagne

Method
Put the lentils in a large pan and pour boiling water over them. Bring to the boil, reduce the heat, cover and simmer for 15 minutes until just soft. If you use lasagne Verdi or similar, check the cooking times on the packet and adjust.

Make the white sauce while this is cooking.

Drain the lentils; add the tomatoes, tomato puree, soy sauce, herbs and seasoning.

Fry (sauté) the onion and garlic in the vegetable oil for a few minutes until soft, keep stirring.

Add the carrots, celery, peas and cook for 15 minutes, stirring occasionally. Then stir in the lentils.

Flavour the white sauce with the nutmeg.

Pour just a little of the white sauce into a large greased, shallow dish. Layer the lasagne sheets, the lentil mixture and the white sauce. Start with lasagne and end with the white sauce.

Sprinkle the grated cheese over the top.

Bake in the middle of a pre heated oven at 190c / 375F, gas mark 5 for 40 minutes.
Hints
You can decorate the top with sliced tomatoes, or sprinkle a little sesame seeds over.

This dish does take a good hour to make, and I tend to double up and make two, and let the second cool down once ready for the oven and freeze for a later date. Vegetable Lasagne recipe wanted.

At the later date, allow to defrost thoroughly, i.e. overnight, and bake for the full 40 minutes.

This recipe also suitable for those searching for: lasgne :o)
Submitted by
Johnie Walker
Vegetarian Recipes
View more Main Meals recipes
View more Pulse Based recipes